Pop Heads Hot 50 Artists of the 1980s


| | |
| --- | --- |
| 50. | The Rolling Stones |
| 49. | Duran Duran |
| 48. | Australian Crawl |
| 47. | Dire Straits |
| 46. | The Human League |
| 45. | The Bangles |
| 44. | Models |
| 43. | John Mellencamp |
| 42. | Bon Jovi |
| 41. | Tina Turner |
| 40. | Mental As Anything |
| 39. | Frankie Goes To Hollywood |
| 38. | Lionel Richie |
| 37. | UB40 |
| 36. | John Farnham |
| 35. | The Jam |
| 34. | Yello |
| 33. | Daryl Hall & John Oates |
| 32. | Split Enz |
| 31. | Billy Idol |
| 30. | Kate Bush |
| 29. | Peter Gabriel |
| 28. | Icehouse |
| 27. | Simply Red |
| 26. | Whitney Houston |
| 25. | R.E.M. |
| 24. | Men At Work |
| 23. | Robert Palmer |
Pop Heads Hot 100 Albums of the 1970s


100. The Beatles - Let It Be - 1970
099. Yes - Fragile - 1971
098. AC/DC - TNT - 1975
097. Kate Bush - The Kick Inside - 1978
096. Jesus Christ Superstar - 1970
095. Electric Light Orchestra - A New World Record - 1976
094. Boz Scaggs - Silk Degrees - 1976
093. T Rex - Electric Warrior - 1971
092. ABBA - Arrival - 1976
091. 10cc - The Original Soundtrack - 1975
090. Joe Jackson - Look Sharp! - 1979
089. Daddy Cool - Daddy Who?... Daddy Cool - 1971
088. Linda Ronstadt - Simple Dreams - 1977
087. Robert Palmer - Sneakin' Sally Through The Alley - 1974
086. Little River Band - Diamantina Cocktail - 1977
085. Rod Stewart - Every Picture Tells A Story - 1971
084. Squeeze - Cool For Cats - 1979
083. The Rocky Horror Picture Show Original Soundtrack - 1975
082. Steely Dan - Pretzel Logic - 1974
081. Lene Lovich - Stateless - 1978
080. Jethro Tull - Thick As A Brick - 1972
079. Etta James - Come A Little Closer - 1974
078. Leo Sayer - Just A Boy - 1974
077. Carly Simon - No Secrets - 1972
076. The Angels - Face To Face - 1978
075. Eric Clapton - 461 Ocean Boulevard - 1974
074. Marianne Faithfull - Broken English - 1979
073. Joan Armatrading - Show Some Emotion - 1977
072. Mike Oldfield - Tubular Bells - 1973
071. Queen - A Night At The Opera - 1975
070. Dire Straits - Dire Straits - 1978
069. Melanie - Candles In The Rain - 1970
068. Madness - One Step Beyond - 1979
067. Genesis - A Trick of the Tail - 1976
066. Ry Cooder - Bop Till You Drop - 1979
065. The Doobie Brothers - The Captain and Me - 1973
064. Supertramp - Crime of the Century - 1974
063. Neil Young - Harvest - 1972
062. Grease Original Soundtrack - 1978
061. Richard Clapton - Goodbye Tiger - 1977
060. Roxy Music - Siren - 1975
059. Paul Simon - There Goes Rhymin' Simon - 1973
058. The Clash - The Clash - 1977
057. Don McLean - American Pie - 1971
056. Meatloaf - Bat Out of Hell - 1977
055. Blood Sweat & Tears - 3 - 1970
054. The B-52's - The B-52's - 1979
053. Elton John - Goodbye Yellow Brick Road - 1973
052. Dave Edmunds - Rockpile - 1972
051. Skyhooks - Living In The 70's - 1974
050. Bob Dylan - Blood On The Tracks - 1975
049. Steve Miller Band - Fly Like An Eagle - 1976
048. Simon & Garfunkel - Bridge Over Troubled Water - 1970
047. Sex Pistols - Never Mind The Bollocks Here's The Sex Pistols - 1977
046. Paul & Linda McCartney - RAM - 1971
045. The Police - Regatta de Blanc - 1979
044. Marvin Gaye - What's Going On - 1971
043. Ringo Starr - Ringo - 1973
042. Santana - Caravanserai - 1972
041. James Taylor - Sweet Baby James - 1970
040. Alice Cooper - Billion Dollar Babies - 1973
039. Neil Diamond - Hot August Night - 1972
038. Rodriguez - Cold Fact - 1970
037. Peter Frampton - Frampton Comes Alive - 1976
036. Bruce Springsteen - Born To Run - 1975
035. George Harrison - All Things Must Pass - 1970
034. Janis Joplin - Pearl - 1971
033. Van Morrison - Moondance - 1970
032. Crosby Stills Nash & Young - Deja Vu - 1970
031. Saturday Night Fever Original Movie Soundtrack - 1977
030. Eric Burdon & War - Eric Burdon declares "War" - 1970
029. Joni Mitchell - Court and Spark - 1974
028. Patti Smith - Horses - 1975
027. Billy Joel - Piano Man - 1973
026. Joe Cocker - Mad Dogs & Englishmen - 1970
025. Deep Purple - Machine Head - 1972
024. The Who - Who's next - 1971
023. Blondie - Parallel Lines - 1978
022. Bob Marley & The Wailers - Live! - 1975
021. The Eagles - Hotel California - 1976
020. Talking Heads - Fear of Music - 1979
019. Slade - Slade Alive! - 1972
018. Cat Stevens - Tea For The Tillerman - 1970
017. Devo - Q: Are We Not Men? A: We Are Devo! - 1978
016. Kraftwerk - Trans Europe Express - 1977
015. Harry Nilsson - Nilsson Schmilsson - 1971
014. The Doors - L.A. Woman - 1971
013. Michael Jackson - Off The Wall - 1979
012. Carole King - Tapestry - 1971
011. Creedence Clearwater Revival - Cosmo's Factory - 1970
010. John Lennon - Imagine - 1971
009. Lou Reed - Transformer - 1972
008. Tim Buckley - Greetings From L.A. - 1972
007. Elvis Costello - My Aim Is True - 1977
006. Stevie Wonder - Songs In The Key of Life - 1976
005. Led Zeppelin - IV - 1971
004. The Rolling Stones - Sticky Fingers - 1971
003. David Bowie - The Rise & Fall of Ziggy Stardust & The Spiders from Mars - 1972
002. Fleetwood Mac - Rumours - 1977
001. Pink Floyd - Dark Side of the Moon - 1973
Pop Heads Musicologist Roddy Lee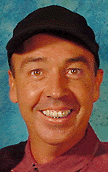 Roddy Lee was born in Sydney, Australia in the late 1950s, the youngest of three children. His siblings were fond of rock and roll - Elvis, Johnny O'Keefe, Col Joye, The Beach Boys and The Beatles. At a young age Roddy was spinning his older sister's 45s on the gramophone at home or listening to Ian McRae on 2SM on his "tranny" in the backyard or down at Cronulla Beach.
It was not only his ears! The family piano got the occasional bashing too, his mother deciding that poorly played Classical pieces was a better alternative to the pounding the upright Beale was then receiving.
Piano examinations were taken at the Sydney Conservatorium of Music.
In 1970 Abbey Road, Cosmo's Factory, Tea For The Tillerman and Deep Purple in Rock had taken hold of the world... and Roddy.
The family piano was once again in for a hammering as Roddy forewent formal piano lessons. Watching one of his father's business associate's deft hands tickle the 88s, Roddy learned to play boogie woogie, chord progressions and good ol' twelve bar blues.
The inevitable garage band was formed when Roddy was given a set of old wooden drums from a family friend. "Ciao Rudy", as they were to be known, featured Roddy on drums and vocals, Mark "Aero" McGuire on lead guitar, Dave Vender on rhythm guitar and Johnny Vender on bass.
Later on Craig "Jet" Jennings became drummer and Garry "Mudguts" Rowe ("The Gangsters of Love") vocalist, when Roddy moved over to the electronic keyboards.
The Zoot, The Rolling Stones, Chuck Berry, The Doors and many other "rock legends" suffered at the hands of 70s garage rock and roll bands.
The early 70s saw the Vietnam war in the newspapers every day and on the TV every night. And Roddy's first attempts at song writing had lyrics that reflected this ugly war. At fourteen Roddy wrote songs with titles like "Blown Out Guts" and "Ten Little Hippies".
And there was teenage love. The band started performing Roddy's original songs - "Hot Sex In Bangkok" and "Sweet Sal".
On the scholastic front Roddy attended Blakehurst High School where an "American" musical was staged every winter. The cast were mostly seniors and the orchestra mostly juniors. Roddy was cast as one of the barbershop quartet in Meredith Wilson's "The Music Man". A crass but impressionable first taste of the theatre.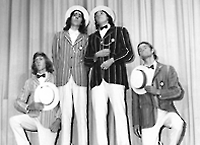 In the Mid-70s high school education in Australia was set at either four years or six years. Students would leave at the end of Fourth Form to do a trade or go on to Sixth Form hoping to matriculate to University. Roddy left school at the end of Fifth Form to pursue his passion - music.
His family insisted on a steady job which was found at music publisher Leeds Music. The Leeds catalogue was impressive - Northern Songs (The Beatles), Screen Gems (Neil Sedaka, Carole King, Neil Diamond, Boyce & Hart, etc) and Dick James (Elton John, The Troggs) and others. Roddy distributed sheet music to retail outlets around Australia and New Zealand.
When Leeds Music Factory, an eight track recording studio, was built, Roddy became assistant sound engineer to Shad Lyons (who, with Leeds A&R man Roy Lister, wrote Marty Rhone's 70s hits and a string of country recordings). Roddy engineered recordings by 50s revivalists Johnny Devlin and Johnny Rebb, Marty Rhone, Debbie Newsome ("Perfect Match") and Afro funk band "Equinox" during these heady days.
Around this time old school buddy Calvin DeGrey approached Roddy with an idea to write a Rock & Roll Musical. With Roddy's garage band still playing and an eight track studio at their disposal they commenced to write That's The Way It Is!, billed as An Outrageous Rock & Roll Musical.
These eighteen year old entrepreneurs somehow encouraged fifty of their friends to participate in the extravaganza that ended up taking eighteen months of blood, sweat and tears from all fifty involved. A Christmas season in 1977 is most memorable as every night was a sell out and the capacity crowd lapped it up.
Roddy was impressed by the English punk movement of the 70s. His love of The Stranglers, Sex Pistols and Malcolm McLaren saw him form "Frozen Moments" which had, amongst other things, a punk clown, Kym Newman (Kym The Magic Clown) on backing vocals who would breathe fire onto the audience.
One gig started with The Stranglers' "Bring On The Nubiles" which had the secretary manager of the club threatening closure. The only way to appease the management was to perform the lightweight standard "You Are My Sunshine" and slowly build through Credence Clearwater Revival to The Doors and, eventually, to "Pretty Vacant". The "Frozen Moments" experiment didn't last.
Roddy and Calvin teamed up again to present "The 1980 Flaw Shows!" - a sketch comedy and music show. And then a series of one nighters called "Caught In The Act" and various pantomimes such as "Santa's No Gnome Christmas".
Flim Flam's Singing Telegrams came to Australia in 1980 and when Americans Rick Burch, Renee Kimbal and New Zealander Brian Clark were setting up the Sydney office, Roddy was approached to co-ordinate the singers and write the personalized telegrams.
Occasion had it that when a certain singer became unavailable one hot summer's Sunday morning, Roddy found himself dressed in the humiliating Flammers' "boiler's suit" with licorice assorts trim, white hat and gloves, red bowtie, piercing whistle and "gram" held aloft walking along the shoreline of Sydney's Lady Jayne Beach where scores of nude sun lovers must have found the sight of "Mr Flim Flam" most amusing. The blushing naked recipient of the telegram was celebrating his 60th birthday. But he was only blushing half the colour of the Flim Flam man.
Sydney's Original Comedy Store opened in Margaret Lane underneath Jamison Street Night Club in the early 1980s and it was the shot in the arm that Sydney's comedy scene desperately needed
At last, a dedicated outlet for comedy - and "new wave comedy", as it was called, had arrived. Rodney Rude, George Smilovici, Austen Tayshus, Ric Carter, Graham Pugh and Vince Sorrenti.
Roddy (as Fats Harness) teamed up with Saturday Brander (as Debbie Felini) to form "The Fourskins", a comedy act that performed at the Comedy Store, Kirribilli Pub Theatre and Kinselas over three years. "The Fourskins" were complete with Katrina Valkenburg (from "That's The Way It Is!") on backup vocals and Robert Stephens (from "Snert Beautron & Neighbour") on saxophone.
"The Fourskins" disbanded and Roddy met Julie Hughes, and with Johnny Vender (from "Ciao Rudy"), and two twelve year old girls (Tachiana and Delia), they became "Spacey Tracey & The Computer Kids". Roddy and Julie wrote songs for this unusual band, that survived long enough to do only two gigs. But the originality of the concept impressed Glenn A Baker, who, judging the girls' performance at the 1983 Rock Eisteddfod said, it was the most original idea he had seen in the competition and it deserved a bigger stage. Differing personalities saw "Spacey Tracey & The Computer Kids" move onto no other stage at all.
Roddy and Saturday continued working together co-compering the erotic and crazy "Ladies Nights Only" at Jamison Street Nightclub for three hectic years. This was the era of 80s Nightclubbing - Madonna, The Pointer Sisters, Frankie Goes To Hollywood and Boy George.
Saturday, in her Western Suburbs persona, Debbie Felini, always bought the house down with lines like, "I told my boyfriend, Killer, that Boy George said a cup of hot tea is better than sex. So he tried it and he burnt his dick!"
Burbank Films Australia produced more than forty "animated classics" from 1981 to 1988. Roddy joined Burbank in 1983 as production assistant. In 1985 he became Production Manager.
And in 1986 Roddy produced his first animated film, the music-filled TV series pilot, "The Way Out Fats Harness".
In 1989 Roddy was Production Manager for Yoram Gross, Australia's premier animation production house.
Roddy continued to compose songs throughout the years - songs that reflected his circumstance and that is now a vast original songbook.
Roddy was also active in a song writing partnership with vintage Rock & Roll crooner Dominic Halpin in the early nineties.
During the recession of 1991 Burbank Films re-opened as Burbank Animation Studios and Roddy was contracted as Production Manager. Burbank produced 33 films between 1991 and 2002.
During the nineties Roddy co-wrote storylines for many of Burbank's animated specials (with Burbank producer Roz Phillips) and composed music for six of these productions.
In 1993 Roddy created a concept for a kids' TV series called "Computer Kids" but the series failed to get off the ground, despite the brilliant pilot made at Crawfords Productions under the direction of Brendan Maher.
In the early nineties Roddy was also deejaying and creating games and activities for Radio Lollipop, the internal radio station at the old Children's Hospital in Camperdown (now known as Radio Bedrock at the New Children's Hospital in Westmead).
Roddy was approached by Calvin DeGrey in 1996 to produce the adults only comedy album "Piss Funny" - a live recording of Calvin performing at Sydney's Original Comedy Store (now in Fox Studios Australia, Moore Park, Sydney). Included on this album is the song "Country Is For Me" co-written by Calvin & Roddy.
Roddy was born in the Year of The Rooster, and as an avid Roosters supporter (in the Australian NRL football competition), it seemed somehow natural that he should create a character called "Roddy The Rooster".
Thus, in May 1996, "Roddy The Rooster" was born.
Including songs from Roddy's childhood days and delving into his vast original songbook, Roddy commenced producing the Video and CD "RODDY THE ROOSTER & FRIENDS", featuring a variety of Australia's premier performers - New Zealand duo Melanie Jean & Nikki H ("Sister Madly"), Billy "Bad Habits" Field, TV's Garry Who, star of stage Linda Nagle, "Mental As Anything"'s Greedy Smith, actor Paul Chubb, stand up comedian Calvin DeGrey and author Kathy Lette.
In 1999 Roddy produced the first animated episode of RODDY THE ROOSTER'S FARMYARD STORIES. The episode, CHRISTMAS BREAKFAST, was written and directed by Susan & Geoff Beak and featured the voice talent of Jonothan Biggins, Ric Herbert and Joanna Moore. The music track was supplied by Neil Sutherland. Roddy The Rooster clips can be found at YouTube.
The new millennium saw Roddy produce the animated music clip "I'm A Boy!", a cover version of The Who's 1965 hit record.
In 2001, Roddy was named Burbank's in-house producer and the 50 minute animated special "JUNGLE GIRL & THE LOST ISLAND OF THE DINOSAURS" was made. An original story created by Roddy Lee, the Burbank film was written by Paul Leadon and stars Katy Manning (ex-Dr Who) as Emma, The Jungle Girl.
From 2003 to 2012 Roddy wrote, produced and presented Popheads Music Quiz , Sydney's Best Pop Music Trivia Game. More than 700 shows were performed at pubs like the Sandringham and the Erko in Sydney's Inner West and at fund-raising functions for sporting clubs and corporate events in and around the greater Sydney metropolitan area.
In 2013 Roddy developed the Pop Heads Music Quiz app.
In 2014 The Pop Heads Hour of Power Radio Show went national. The program first aired in 2010 on Sydney's Northside Radio FM99.3 presented by Roddy Lee and Jane Arakawa - it can now be heard across Australia via the Community Radio Network - and recent programs can be listened to at Northside Radio FM99.3
For more info - or to give feedback
e-mail us at: roddy@popheads.com.au
Check out Roddy's YouTube channel here.
And become a friend of Pop Heads on Facebook here.
© COPYRIGHT 2018 RODDY LEE. ALL RIGHTS RESERVED.